Hello!
On the web I am known as fairyjo, but my real name is Joanie Delphine Clementine Waelti. I was born September 28th 1977 in the French part of Switzerland.
I will be working on that page to introduce myself to my visitors, I hope you like it.
Please, have a look around my site too, I made it on my own and I am quite proud of it.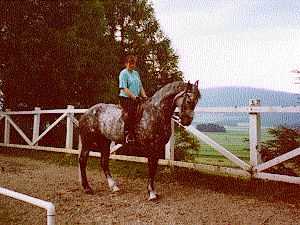 A look at the picture
I used to ride a beautiful horse called Aladdin. He is so gentle, but sometimes I had little difficulties to hold him. I did dressage with Aladdin, he is just perfect for that. He doesn't like unexperimented riders, so if you don't show him who is the boss, he would just do anything to throw you back to his hoofs.
Now I can't ride him anymore, his owner has selled him and I didn't have the money to buy and take care of him. I don't even know where he is, but this picture is one of my favourite, it reminds me of this great horse.

A look at the picture
Here I am ice-skating, this is my second favourite sport. In the winter semester, at university, I am teaching ice-skating to anyone who wants to learn. Most of the time they are from miscellaneous countries and haven't had ice-skating shoes on before. This is a lot of fun for them and for me.
Pictures of me


That's me again:)

Cherry time...

A painting!

A B&W close up

July 2001!
---
ADVERTISING : click there to bring more visits to my site, but don't forget to come back.